Parks
Area parks and recreation amenities
Bartholomew Park
is a gleaming green jewel on the southern edge of our neighborhood at the corner of Berkman Drive and 51st Street,  welcoming families and visitors with gradual hills, a winding creek, and sprawling canopy of trees.  Bartholomew has a long history of neighborhood involvement. Volunteers have given money and sweat to plant trees, build play equipment, paint buildings, and more.
Barbecue Pits – 7
Baseball Fields – 3
Basketball Courts – 4
Disc Golf Baskets – 18
Multipurpose Fields – 1
Picnic Shelters – 1
Picnic Tables – 31
Playgrounds – 1
Reservable Facilities – 3
Softball Fields – 3
Splash Pad – 1
Swimming Pools – 1
Tennis Courts – 2
Volleyball Courts – 1
Dottie Jordan Park
Dottie Jordan Park, in the University Hills neighborhood just to the north of Windsor Park is a small park featuring a swimming pool, a creek, picnic area and beautiful shaded area to stretch out and enjoy the beautiful Austin weather.
Amenities
3 Barbeque Pits
2 Basketball Courts
6 Picnic Tables
Playground
Swimming Pool
Tennis Courts
Walking Trail
Senior Community Garden
Pomerleau Park.
In early July, WPNA celebrated the long-awaited opening of Pomerleau Park at 1906 Patton Lane. This park encompasses 2.2 acres along Patton Lane and Mira Loma Lane.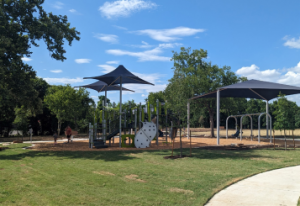 The neighborhood association is also maintaining a small planting area along the median at Berkman and 290, across from El Rancho, thanks to a grant from Keep Austin Beautiful.