Former Windsor Park scholars in attendance spoke about the scholarship program and congratulated the newest recipient.
By Alice Graulty, Schools Committee
Spring 2020 started out like any other semester at our Windsor Park high schools, Northeast HS (formerly Regan), LBJ, and LASA. But as we all know, the school year came to an unexpected and unprecedented screeching halt.
This year, we were invited by Northeast's counselor, Ms. Curry, to present at one of the morning scholarship homerooms she hosts daily for students. We teamed up with a counselor from the College Hub at the Foundation Communities Prosper Center on nearby Airport and squeezed in a presentation with Northeast students in early March! We spoke in detail about the Windsor Park Scholarship, and Jaime Ayala from the College Hub, spoke about scholarships, financial aid, and college access in general. It was a great partnership.
On June 13th we had the opportunity to congratulate our 2020 recipient, Janelle Robes, at the Windsor Park Neighborhood Association virtual meeting. Janelle, a recent graduate of Northeast HS, was joined by her ROTC Advisor, Randy Taylor, pictured below.
Mr. Taylor spoke about Janelle's leadership as commanding officer in the ROTC where she oversaw 88 cadets and the various activities, community service, and communications divisions within the organization. "I can assure you I never had a finer cadette…What made her so special was her ability to lead and communicate with the other students. She's not only a great cadet and great student, but an overall great person."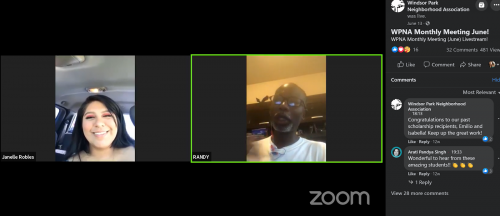 Janelle graciously accepted her award and listened thoughtfully to words of encouragement and congratulations from the neighborhood association, including two former scholarship recipients Emiliano (2015) and Isabella (2017) who joined in to cheer her on. "Way to go, you made it," said Emiliano who was also in the ROTC at Northeast high school.
Janelle's essays, submitted with her scholarship application, give us a more intimate picture. From community involvement with cycling races and obstacle course competitions to environmental clean-ups, Janelle shows her capacity for helping others. But it's her commitment to her family, especially her mother, since her father passed away, that sets her apart. All while maintaining a 3.7gpa at Northeast HS, Janelle has helped her mother financially, emotionally, and with childcare for her younger siblings–juggling, work, school, and family.
Her plans are to pursue architecture at the University of Houston-Downtown. But in the face of the Covid-19 pandemic, and with finances being a major barrier, it's going to be a challenge. We've seen what Janelle can do with challenges, and are confident that she will find a way to make higher education a reality for her. The whole neighborhood is routing for her.
The Schools Committee also received an outstanding scholarship application from Northeast HS student, Raul Torres. While we weren't able to award him the scholarship because he lives outside of the Windsor Park Neighborhood boundaries, we mailed him a $100 visa gift card and a letter from the committee congratulating him on his accomplishments and wishing him well.